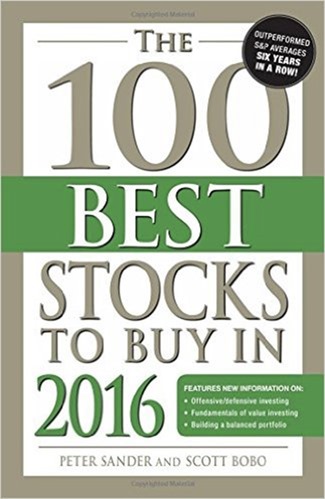 Now is the time to make money!
Although the market has seen growth in 2015, it continues to swing on concerns over energy prices, the possibility of a "Grexit," and currency headwinds. With The 100 Best Stocks to Buy in 2016, you'll protect your money from sharp declines with stock picks that have consistently beaten the market average. Inside, you'll find an evaluation of the current state of the market, details on low-volatility investing (an important investment trend), and information on trading defensively in a time of market volatility. An essential guide for anyone investing in today's market, The 100 Best Stocks to Buy in 2016 offers solid and dependable advice you can take to the bank.
Meet the Author
Peter Sander has written forty-two books, including Value Investing for Dummies and Personal Finance for Entrepreneurs as well as 101 Things Everyone Should Know About the Economy. The author of numerous articles dealing with investment strategies, he is the coauthor of The Best 100 Stocks You Can Buy 2015.
Scott Bobo specializes in trend and investment analysis in the consumer electronics, personal computer, and semiconductor industries. Scott served as lead researcher for the 2011 and 2012 editions of The 100 Best Stocks You Can Buy and as coauthor of the 2013–2015 editions. He operates Red Wrench, a personal technology and investment consulting firm.
SIZE: 8 MB (ebook)
Screenshots (Click to enlarge)
Peter Sander, Scott Bobo – The 100Best Stocks to Buy in 2016 Contents: Pdf