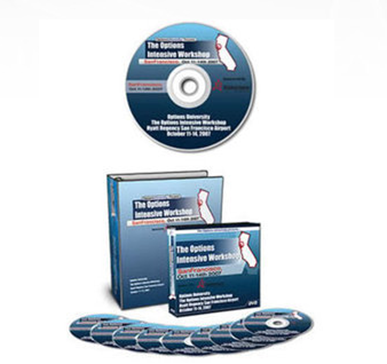 "For The First Time Ever (And Maybe the Last) You Have The Chance To Discover All The Insider Secrets Of These Trading Gurus Under One Roof – In Three Days Of The Most Exciting, Information-Packed Trading And Investing Workshop Ever Produced!"
Featured Speaker #1: The 'Experts' Expert on Options — Larry McMillan of 'McMillan on Options'
Featured Speaker #2: Tom Sosnoff – "Options Expert, Former Floor Trader, and Co-Founder of Think or Swim
Featured Speaker #3: Price Headley – "Top 10" Stock Market Timer and Options Trader
Featured Speaker #4: David "FirstWave" Elliott – Technical Analysis Wizard – Twice Voted World's #1 Market Timer!
Featured Speaker #5: Ron Ianieri – Professional Options Floor Trader, Market Maker And Expert Options Trainer!
Featured Speaker #6: Bill Johnson – Charles Schwab's "Expert For The Experts"
Featured Speaker #7: Candlestick Trading Expert — Stephen W. Bigalow
16 DVDs with Varieties of speaker and various topics :
RON IANIERI -THE HIDDEN IMPORTANCE OF THE GREEKS
STEVE BIGALOW -HIGH POWERED CANDLESTICKS SIGNS
STEVE BIGALOW -HIGH PERCENTAGE CANDLESTICKS PATTERNS
PRICE HEADLY -FAVORITE TECHNICAL INDICATORS
ASHRAF LAIDI -CURRENCY MARKETS, UNWINDING CARRY TRADES & THE FEDS
LARRY MCMILLAN -USING VOLATILITY IN YOUR OPTION TRADING
RON IANIERI -THE ART OF MORPH
TOM SOSNOFF -USING NEW TECHNOLOGY IN TRADING OPTIONS
BILL JOHNSON -USING VOLATILITY FOR PROFITABLE TRADING
DAVID ELLIOT -FINDING THE MARKET MOVERS
RON IANIERI -SIMPLE CHART, SIMPLE STRATEGIES
TOM SOSNOFF -"THINK OR SWIM" PRESENTATION / DEMONSTRATION
DAVID ELLIOT -BIG MOVE TRADE PATTERN
RON IANIERI -"DYNAMIC HEDGING" THE ULTIMATE IN PORTFOLIO PROTECTION
PRICE HEADLY -HOW TO TRADE TODAY'S VOLATILE MARKET
BILL JOHNSON -"THE VOLCONE – A TRADERS TOOL TO FINDING VALUE"
Screenshots (Click to enlarge)
Options University – Intensive Workshop Seminar 16 DVDs Contents: Videos
DOWNLOAD
Download links are hidden! Click bellow to get the VIP membership or login.