A Trader's Journey From Data Mining to Monte Carlo Simulation to Live Trading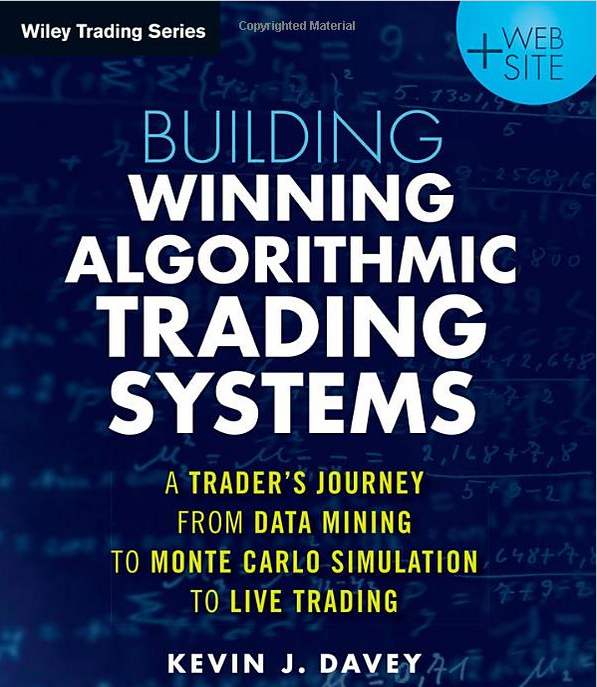 "Kevin Davey was awarded either first or second place three years in a row in the World Cup Championship of Futures Trading®. I'm typically not impressed with that sort of performance, but I think Kevin is an exception. Why? First, he published my feedback about winning the contest and what he learned from it. He then goes on to not only give a complete approach to algorithms, but also talks about how your psychology can still sabotage you. Finally, he spends a lot of time talking about objectives and position sizing. This is a very impressive book."
—Dr. Van K. Tharp, author of Trading Beyond the Matrix: The Red Pill for Traders and Investors (Wiley), Founder, Van Tharp Institute, www.vantharp.com
"Kevin's book is a good beginner's guide to systems trading, a Trading Computer Strategies 101."
—Bob Pardo, Pardo Capital, author of The Evaluation and Optimization of Trading Strategies (Wiley)
"This book is a must read! It is not a simple list of rules to trade better; it is a journey through the trading life of the author. The author Kevin will let the man Kevin become your friend, sharing his path to becoming a successful trader."
—Andrea Unger, World Cup Championship of Futures Trading® Winner 2008, 2009, 2010, 2012
"The winning trader is rare. The quantitative winning trader is even more rare. Kevin Davey's book Building Winning Algorithmic Trading Systems is the rarest of all gems. It is a book that tells the quantitative trader how to build a quantitative trading system. It should be the textbook for all would-be quantitative hedge funds. I highly recommend this book to all traders, even those that do not use quantitative methods."
—Kurt K. Sakaeda, World Cup Championship of Futures Trading® Winner 2000 and 2004
Develop your own trading system with practical guidance and expert advice
In Building Algorithmic Trading Systems: A Trader's Journey From Data Mining to Monte Carlo Simulation to Live Training, award-winning trader Kevin Davey shares his secrets for developing trading systems that generate triple-digit returns. With both explanation and demonstration, Davey guides you step-by-step through the entire process of generating and validating an idea, setting entry and exit points, testing systems, and implementing them in live trading. You'll find concrete rules for increasing or decreasing allocation to a system, and rules for when to abandon one. The companion website includes Davey's own Monte Carlo simulator and other tools that will enable you to automate and test your own trading ideas.
Learn the systems that generated triple-digit returns in the World Cup Trading Championship
Market patterns change, and so do system results. Past performance isn't a guarantee of future success, so the key is to continually develop new systems and adjust established systems in response to evolving statistical tendencies. For individual traders looking for the next leap forward, Building Algorithmic Trading Systems provides expert guidance and practical advice.
Screenshots (Click to enlarge)
Kevin Davey – Building Winning Algorithmic Trading Systems Contents: PDF