We Will Reveal The Closely-Held Secrets Of Top Floor Traders… And Guide You Step-By-Step To Gain The Skills And Confidence You Need For Consistent Profits
It's called "The Opening Range Success Formula," and we will peel back the layers and show you how to achieve both immediate results and build a solid foundation for lasting success throughout your trading career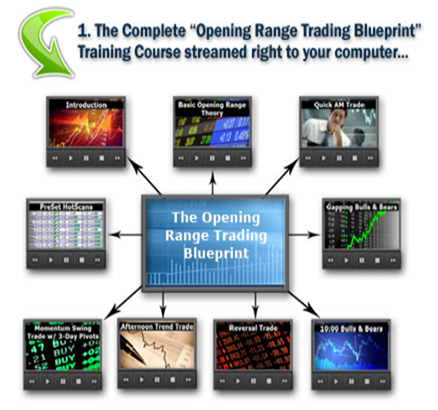 Inlcudes the "Opening Range Trading Blueprint" Streaming Course, the live trading session records and the Bonus session. The "Opening Range Trading Blueprint" is a comprehensive initial training course that takes you from the very beginning and transforms you into an advanced Opening Range trader using our complete educational foundation and 5 time-tested trading setups. Our system is based on the Opening Range and the price/volume relationship, concepts that are used by some of the world's best traders, and offer a proven statistical edge. We developed this training based on our decades of trading on the floor, as hedge fund and managed money traders, and even for our personal accounts. The concept and trade setups taught in the course apply to virtually all styles of trading and time frames.
This is the heart and soul of the entire Opening Range Success Formula. It includes 9 training modules… each focusing on a unique aspect of the Opening Range. As you progress through all of these training modules, your knowledge and confidence will grow.
Module 1: Introduction
We'll get you started on the right foot with this important overview of everything you'll gain through this course:
* Meet the Opening Range Experts who will guide you through this training
* Presentation of the Course Mission and objectives
* We'll walk you through our Opening Range Trading Mind Map concept to ensure you understand the "big picture" and how you'll benefit from it
Module 2: Basic Opening Range Theory
This is where we'll start to dig in on the Opening Range to give you the foundation of knowledge to improve your trading throughout your entire career:
* Understanding the Opening Range Basics, the core of market dynamics
* The simplicity and power of trading around any price
* How to use the Opening Range, and which Opening Range to use
* Easily recognizing winning Opening Range patterns
* The most important characteristics of the Opening Range
* The value of a disciplined approach, and how to do it the right way
* Using the Opening Range for all trading styles – day, swing and position trading
* Supporting documentation of every trade covered in this module to step you through each trade setup
Module 3: Quick A.M. Trades
If you're looking for some quick trading success before lunch, this module will show you some of the fastest and easiest setups to follow for immediate gratification:
* How to catch the morning's initial momentum burst
* Finding these golden trade setups with Entries, Exits and Targets
* How to pinpoint the best stocks for AM trading
* Great for part-time or full-time traders, we'll show you how to do it
* Supporting documentation of every trade covered in this module to step you through each trade setup
Module 4: Gapping Bulls and Bears
We'll show you how to take advantage of the very popular gap trading strategy, with our unique twist to properly protect yourself and find the best setups:
* How to identify and catch the best gaps each morning
* Gap setups with Entries and Exits
* Placing Stops and setting Profit Targets
* How and when to use the one minute chart
* Fading the gap – When and how
* How both part-time and full-time traders can take advantage of these gap strategies
* Supporting documentation of every trade covered in this module to step you through each trade setup
Module 5: The 10 O'Clock Bulls and Bears
Some of the best trades are available in the late morning… we call them the 10 O'Clock Bulls and Bears. We'll show you how to take advantage of these excellent opportunities:
* Easy steps to catch the best of the late morning trades
* Our very best 10:00 Bulls and Bears patterns
* How to use multiple timeframes the right way
* The right way to scan for the late morning breakout
* Stay safe by knowing what trades NOT to take
* Ideal for quick day trades or holding all day
* Supporting documentation of every trade covered in this module to step you through each trade setup
Module 6: Reversal Trades
Experienced traders know how valuable spotting reversals can be. We'll help you understand what's really happening with reversals, how to pinpoint them yourself, and how to use HotScans to automate the whole process:
* Understanding Reversals theory
* Characteristics and patterns of winning reversals
* Reversal trades setup: Entries, Exits and Profit Targets
* How to scan for reversals
* Great for quick day trades or scaling into swing trades
* Supporting documentation of every trade covered in this module to step you through each trade setup
Module 7: Afternoon Trend Trades
After you've mastered the previous morning strategies and setups, you'll be ready for these afternoon trend strategies to keep you productive the entire trading day:
* Understanding the special characteristics of the Afternoon Trend Trade
* Seeing the Afternoon Trend Trade setup: Entries, Exits and Profit Targets
* Tips on catching the Classic Retracement Trade
* Finding the best trades using this Afternoon Trend Trade strategy
* Ideal for part-time traders, quick day trades, or managing swing trades
* Supporting documentation of every trade covered in this module to step you through each trade setup
Module 8: Swing Trades with 3-Day Pivots
If you're a day trader or swing trader, this will be an eye-opening education to leverage your trades for even greater profits:
* The theory behind this powerful indicator called the "3-Day Pivot"
* Successful Swing Trades for day traders and end-of-day traders
* Understanding and following the rules of the 3-Day Pivot System
* Using the 3-Day Pivot as Triggers and Stops
* Supporting documentation of every trade covered in this module to step you through each trade setup
Module 9: Conclusion
We'll bring everything together in this final module and go back to the big picture of trading the Opening Range:
* Summary – how to make the most out of the course
* Avoid minefields and pitfalls
* How the Opening Range Mastery Program will solidify and expand your knowledge
* Finding winning trades with HotScans
* Answering your Opening Range questions
* Supporting documentation of every trade covered in this module to step you through each trade setup
Screenshots (Click to enlarge)
Geoff Bysshe – Opening Range Success Formula Contents: Videos